DG series double roller granulatior
DG series double roller granulatior
Product label:DG Granulation Equipment
Description:DG series Granulator Machine adopts non drying process granulating at normal temperature and once forming. It can produce 2-6mm irregular granules, Φ2-10mm oblateness granules and all kinds of slice products. It i…
Details
Photo Gallery
Customer Application
Animation
DG series double roller granulator
DG series Granulator Machine adopts non drying process granulating at normal temperature and once forming. It can produce 2-6mm irregular granules, Φ2-10mm oblateness granules and all kinds of slice products. It is a multipurpose machine and widely used to granulate the powder materials of fertilizers, medicine, chemicals, etc, especially suitable for the production of palletized fertilizers such as ammonium bicarbonate, carbamide, ammonium chloride, ammonium sulfate, potassium chloride, potassium sulfate, salt, binary, ternary compound fertilizers(Nutrient content 25-53%), blended fertilizers and so on.
Our company can tailor the chemical fertilizer production lines from 15,000 to 500,000 T/Y according to the requirements of the customers. The complete sets of the equipment are in compact layout process, scientific and rational, leading technology, energy saving, environmental protection without waste emissions, operation stability, and easy maintenance.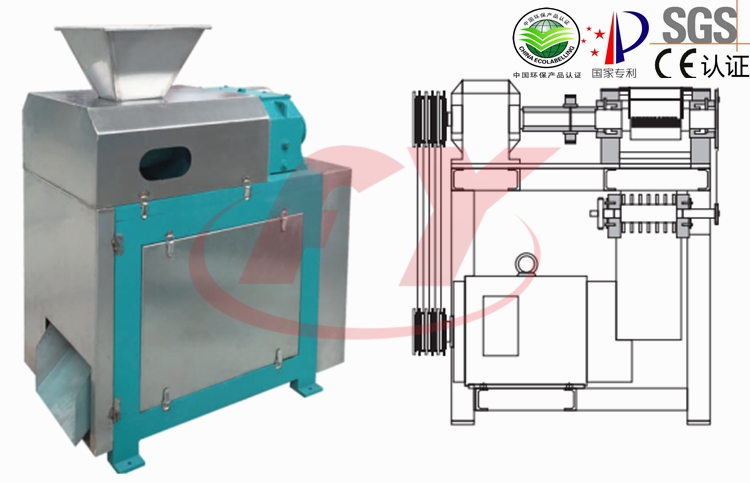 Working principle
As is shown in the figure, the granulation machine is mainly divided into two parts, granulation and broken, after full mixing the material from the hopper mouth continuous feeding into a pair of roller of two models, the gap between the rollers can be adjusted properly, At the same time, in order to ensure that the cavity on the two roll can be completely on the upper, which has a roller can be adjusted as appropriate. At the same time, in order to ensure that the cavity on the two roll can be completely on the upper, which has a roller can be adjusted as appropriate. Granulation molding part is mainly composed of a motor, a belt drive device, hardened special reducer, coupling, gear, bearing, bearing, roller, feeding hopper etc..
Crusher is mainly spreading sheet material from molding material. It is mainly composed of motor, transmission device, gear, bearing block, bearing, broken tooth and other. The roll material of the equipment is alloy steel, broken tooth is made of stainless steel. Main chassis and bearing seat to consider corrosion resistance and stability, other materials HT200 casting, hopper and material for stainless steel, the other material is Q235.
Features:
DG series double Dry granulation machine is the key equipment for the production of pelletized fertilizers. It has the features of advanced technology, rational design, compact structure, novelty and practicality, low energy consumption, fit to relevant equipment, single or multi-machine combination. It can form continuous, mechanical production lines with 15,000T to 100,000T annual output; it can optimize the formula, adopts no-drying process, production in normal temperature and once forming products. The quality of its products is in conformity with the technical specifications of the compound and blending fertilizers. Especially, the double roll palletization of ammonium chloride, ammonium sulfate, ammonium bicarbonate, potassium chloride and other fertilizers fills a blank in China. It can produce all kinds of high, medium and low concentration dedicated compound and blended fertilizers.
It is one new generation upgrade and update product of saving energy and lowing consumption in the compound and blended fertilizer industry.
Regarding the problem during the production process, like: yield is low, poor wear resistance roll, etc, Our engineering and technical personnel improve key processes, related technology & technical parameters after repeating test which increased wear on the roller , yield improved significantly. Friction coefficient is small between Materials and roller during the production process, low temperature rise, energy consumption & no pollution.
Technical parameters of this Granulation Machine:
Model

DG-200

DG-300

Motor power

15KW

30KW

Production capacity

Oblate shape 900-1300 kg/h, irregular shape 300-700 kg/h

Oblate shape 1600-2100 kg/h, irregular shape 900-1600 kg/h

Reducer

Adopt hard tooth surface dedicated reducer

Press roll

Forged with alloy steel, heat treatment in special process, the surface of press roll can be plated with hard chromium to have rustproof and wear-resistant treatment.

Rate of finished product

Oblate shape 60-90%, irregular shape 30-60%

Granular diameter

3.8、4.2、4.8、5.5、6.0、6.5、8、10mm

Granular shape

Round、oblate、irregular、strip 、slice

Moisture content

Inorganic materials 2-5% ,organic materials 6-12% moisture

Working temperature

Normal temperature

Working medium

Ammonium carbonate, ammonium chloride, ammonium sulfate,urea, ammonium phosphate, calcium magnesium phosphate, potassium chloride, potassium sulfate, humic acid as well as all kinds of organic matters,etc
Videos about granulating ammonium Sulfate and compost fertilizer, please click the below links:
Ammonium sulfate: http://v.youku.com/v_show/id_XNDkwNzQzMTM2.html
Compost fertilizer: http://v.youku.com/v_show/id_XNDYzMDY2NjQw.html
More videos please contact us: www.fuyigz.com
Various rollers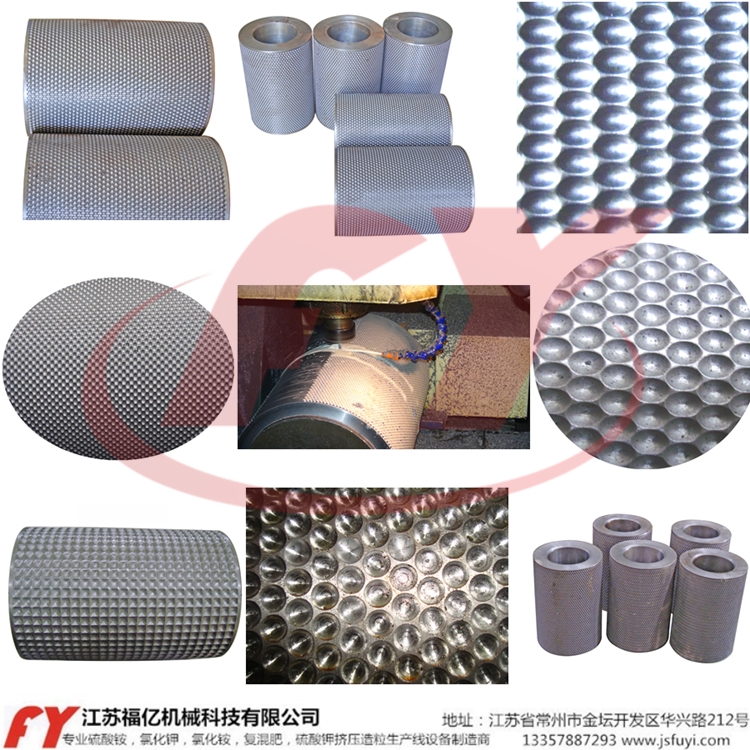 Applied materials of this Double Roller Granulator:
Potassium sulfate, potassium chloride, potassium&magnesium fertilizer, NPK fertilizer, potassium nitrate, ammonium chloride, MAP, TSP, SSP, DAP, ammonium sulfate, phosphate rock powder.etc.
Different Shapes and Final Granules:


DG classic process
1. Multiple sets of equipment (recommended for large production demand)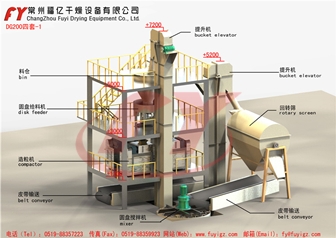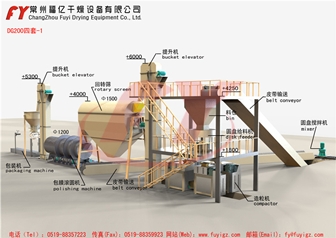 A series of DG equipment processes are usually the form of a group to four sets, bucket elevator loading material on the left picture, process more shown on the right process, the process is as follows:
Process flow is "mixing - granulation - Screening - polishing - packaging", after the screening of fine powder material to return to the raw material mixing again into the granulation system to form a granulation cycle, improve the granulation efficiency of the granulation process, process flow and control description: raw material mixing - Transport granulation - Screening - particle beauty ---- measuring packaging.
①、 Mixing: Material from the outside is conveyed to the disc mixer for mixing, and the material is fully mixed and sent to the granulation system by the conveying belt.
②、Granulation: Material from the upstream mixing process, through a belt conveyor, into a
disc feeder with a feeding device, after the disc feeder make material evenly into DG series granulator, the material after in the extrusion granulating machine, crushing and get the required particle material is transported to a process via belt out granulation.
③、 Screen: After granulation, the primary particles are obtained through the belt conveyor to the elevator,the primary particle is raised to the screen by the bucket elevator, roller screen will be qualified particles screened out, can be directly packaged or enter the next step, the screening material (non conformity) is sent back to the raw material place by the belt conveyor, and then mixed again to make the re granulation.
④、Polishing: After screening to get the product particles, directly into the polishing machine, in this process, the particles in the polishing machine for polishing, the resulting particles more smooth and full.
The process is suitable for the combined process of a small amount of equipment. Greater production process is as follows: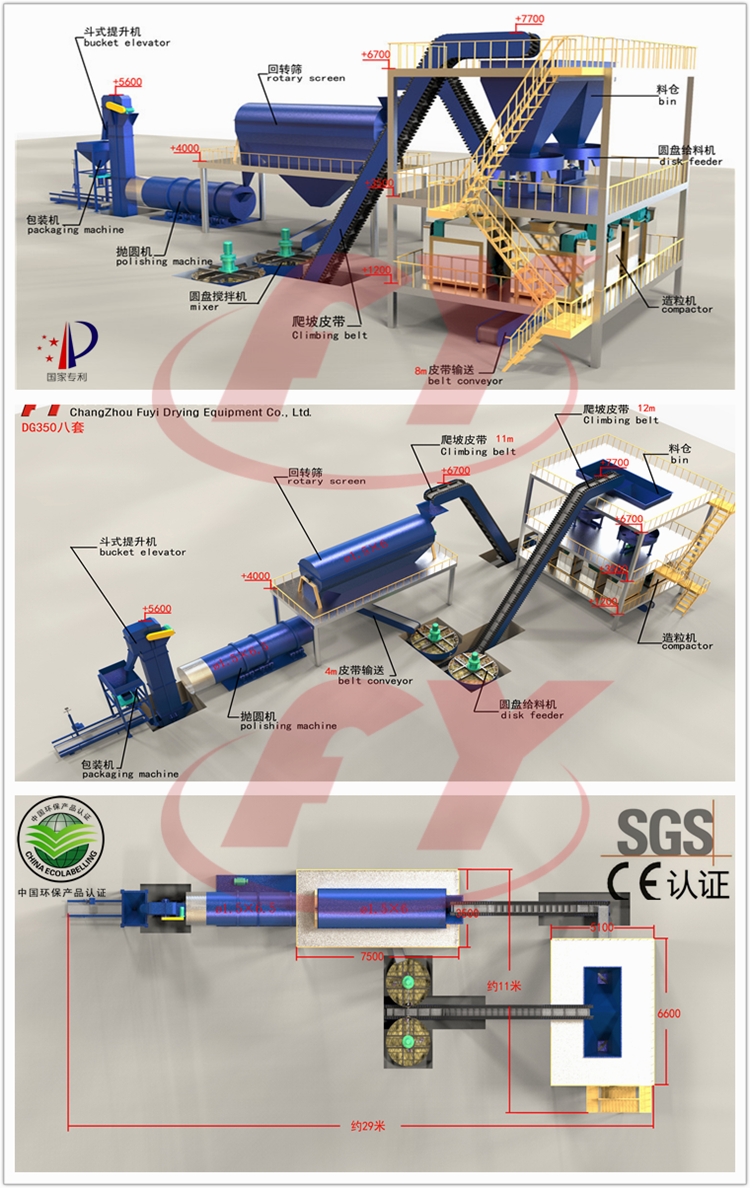 Machines: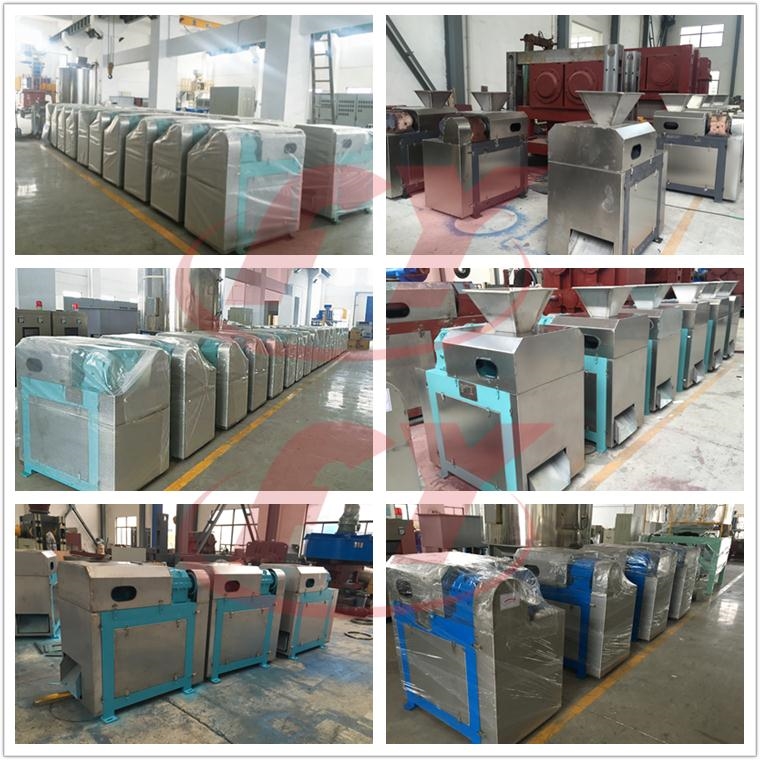 Customer using on-site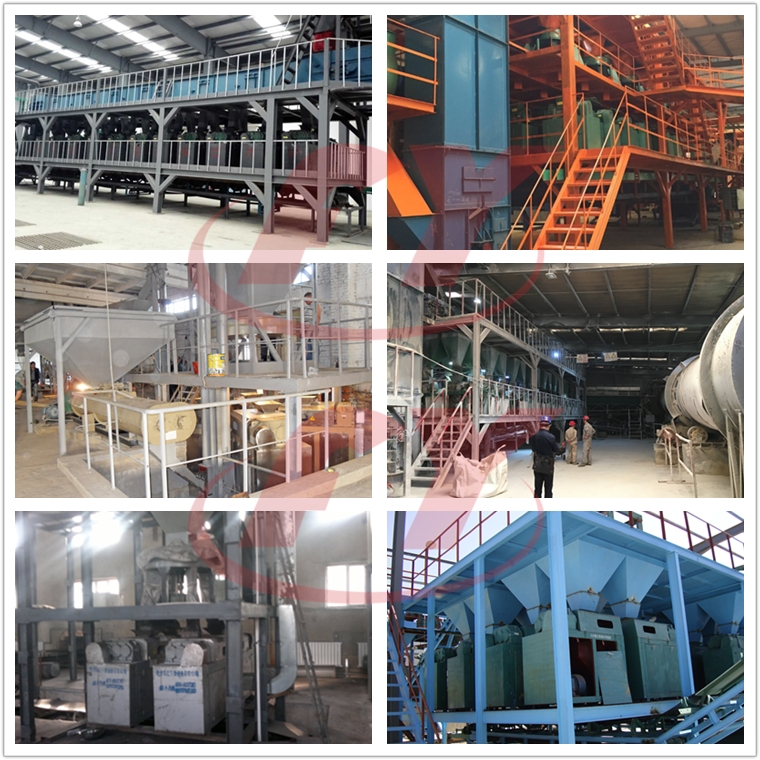 Delivery And Transport: